Finally reaching the ritual room, you find demons and fallen angels working on a demonic ritual, once they notice your presence, they only smile. 'You are too late'
Upon striking the demon, the monolith explodes, letting out immense energy. The entire catacombs are filled in a trick dark light.
You fall on your knees, the light seems to drain your life force wawy. As you collapse in the fllor, you no longer feel alone in the room, a strong presence fills the air around you.
The monolith's shattering let out four unspeakable evil upon our world.
Enemy Formation and Strategy Against
Edit
  The Ritual is the last level in Act 1 of the Ashes campaign
to complete this level all you need is: 6 pikes (you start off with that),6 2-handed swords (you win them in campaign) and 6 Barbarian Flags
The Frontline should be Orcs using 2 handed Swords behind them should be orcs using pikes and behind them humans that are using either: Blunt,Slash,Pierce,Frost or Viper flags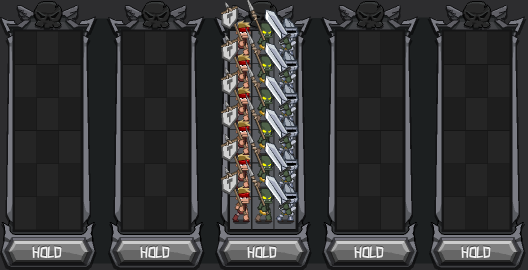 The Flags can be found in packs with Uncommon items in them 
  NOTE: THIS ARMY DOES NOT WORK DUE TO CHANGES TO THE ITEMS