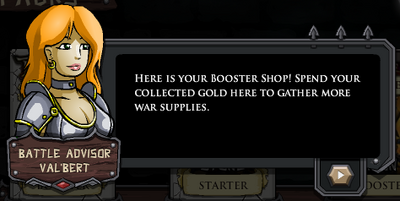 The booster shop is where you buy packs, to extend and improve your armies
In the shop, Stone, Iron, Steel and Gold packages may be purchased with gold. Each package contains units of different rarity (common, uncommon, rare and legendary).
Stone, Iron, Steel packages have Starter and Booster versions, with different amount of cards and different price. Gold packages have Booster version only.
All packages is available for each campaign: Heroes, Ashes and Myths.
In addition to these packages, creature packages may be bought directly. These packages change daily and weekly.
Packages
Stone Booster
Cost: 380 gold
Uncommon: 1
Common: 14
Stone Starter
Cost: 1160 gold
Uncommon: 2
Common: 48
Iron Booster
Cost: 700 gold
Uncommon: 5
Common: 10
Iron Starter
Cost: 2600 gold
Uncommon: 20
Common: 30
Steel Booster
Cost: 2660 gold
Rare: 2
Uncommon: 5
Common: 8
Steel Starter
Cost: 7900 gold
Rare: 5
Uncommon: 25
Common: 20
Gold Booster
Cost: 10000 gold
Legendary: 1
Rare: 4
Uncommon: 10
Ad blocker interference detected!
Wikia is a free-to-use site that makes money from advertising. We have a modified experience for viewers using ad blockers

Wikia is not accessible if you've made further modifications. Remove the custom ad blocker rule(s) and the page will load as expected.